Hey fine feathered and fecund friendlies:
That's enough of that.
Are you in the Washington, DC area? Can you
make
it to the DC area? If the answer is yes, or you just discovered astral projection, come see art by Lisa Grabenstetter and myself at
SOVA - Espresso & Wine
on Sat. May 8th. The opening night of
3rd knock on the door.
is bound to be a strange evening with music by Baltimore plucker James Von Lenz and fine foods & drinks available from the bar 'til 2 am.
From 6:00-9:00pm will run the opening, with a DJ set following for the rest of the evening. Artwork will be up for 6 weeks if you happen to miss it and be in the neighborhood later. The new H St NE corridor is a funky place just by the Palace of Wonders and the Rock & Roll Hotel. It's a good place to spend a Saturday night, if I say so myself.
Here's the
event page on Facebook
.
And
here it is on myspace
.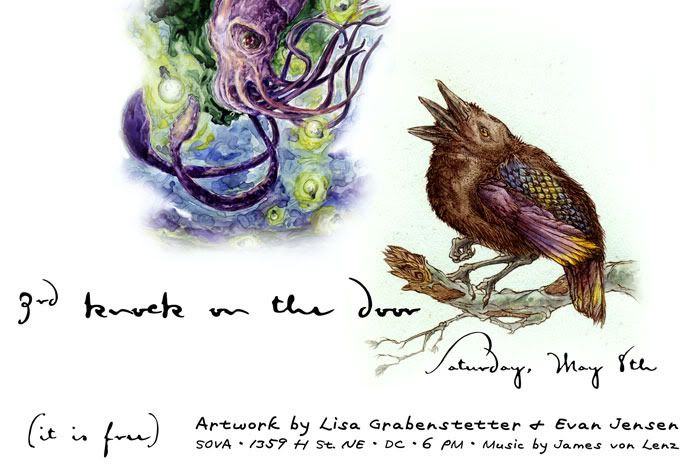 May 8th at SOVA come join a strange crowd where Perchta and the Salamander envoys mingle over tea, street peddlers call out cantrips, and bluegrass pickers discuss Hegel with Krampus.
3rd knock on the door is the opening night of SOVA's newest exhibition featuring DC area illustrators Lisa Grabenstetter and Evan Jensen. Accompanying music provided from 6-9:00 by Baltimore musician James von Lenz, while drinks, food & espresso will be available from the bar.
Come early and stay late! SOVA has a chill vibe and there'll be a DJ set from 9:00 onward with the bar remaining open 'til 2.
SOVA - Espresso & Wine
1359 H Street, NE
Washington, DC 20002
(202) 397-3080‎